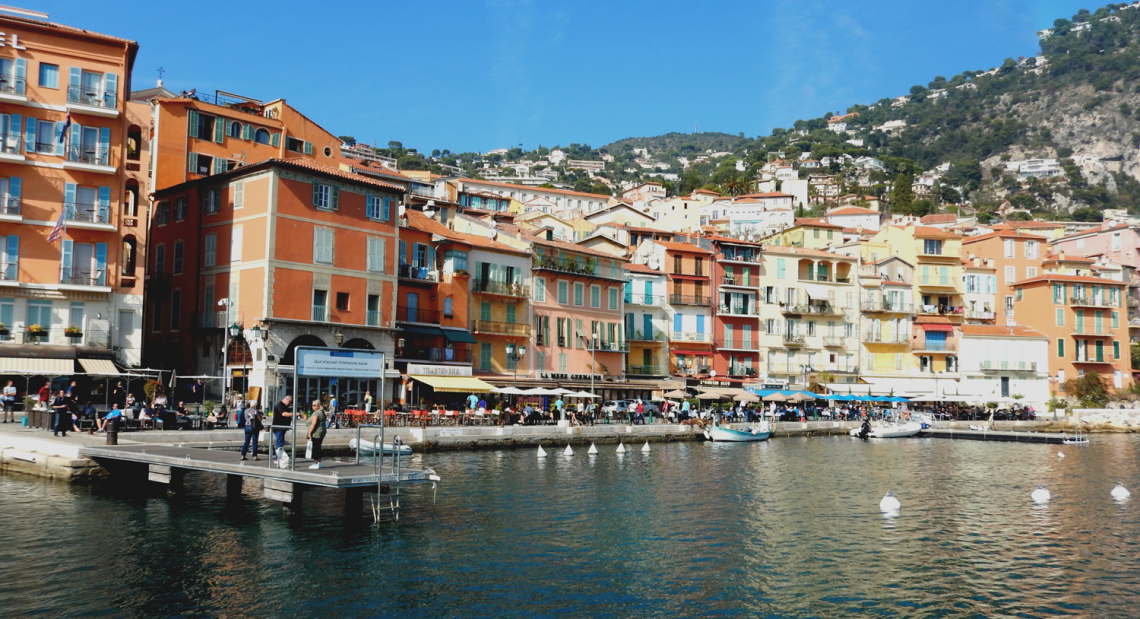 Villefranche (Veal-fransh) is one of the few Mediterranean ports that require tendering. From your ship you wil take a small boat in to the town of Villefranche, your gateway to Nice and other French Riviera cities. Villefranche will noticeably look very Italian in style with its golden buildings perched on steep hills. This is because it has its origins in Italy and now is still a passageway to Italy. This Nice cruise port guide will give you the information you need to get to Nice comfortably so you can fully enjoy your trip.
Transportation
If you are heading to Nice, after getting off of your tender at the port, you will want catch a bus. There is a bus (80) that stops nearer to the port, across from the terminal, which may work if you have difficulty walking up hills, but it comes only every hour. Walking up the hill to M6098, crossing the street you will find the bus stop for 100 or 81 which runs every 20 minutes. Both will take you to Nice for 1.50 euros per person one way.
To get to this stop (Octroi) follow the map I have provided. When you get to the main road, on your left there will be a tourist information center and community garden. Cross the road, the bus stop is just in front of a pharmacy. Buses will be coming from the direction of Monaco.

The final stop is Promenade des Arts. We happened to be on a bus that ended his shift at Carnot. If that happens, follow the water, or take a main road like Rue Cassini towards the Promenade des Arts. We have included a printable map and the bus route to help. When traveling by bus or train, always pay attention to the stops so when you are returning, you can gauge when your stop is coming up.
Sights
It is a relaxing walk down the green strip, with parks and water fountains. At the end, you will be at the waterfront and the Promenade. From there you can plan your day around the pebbly beach, art museums, mini train, or the flower market.
The flower market is small but a lovely French market to have a look around. From giant vegetables, to piles of spices, it's a refreshing sight to see compared to your usual supermarket trips.