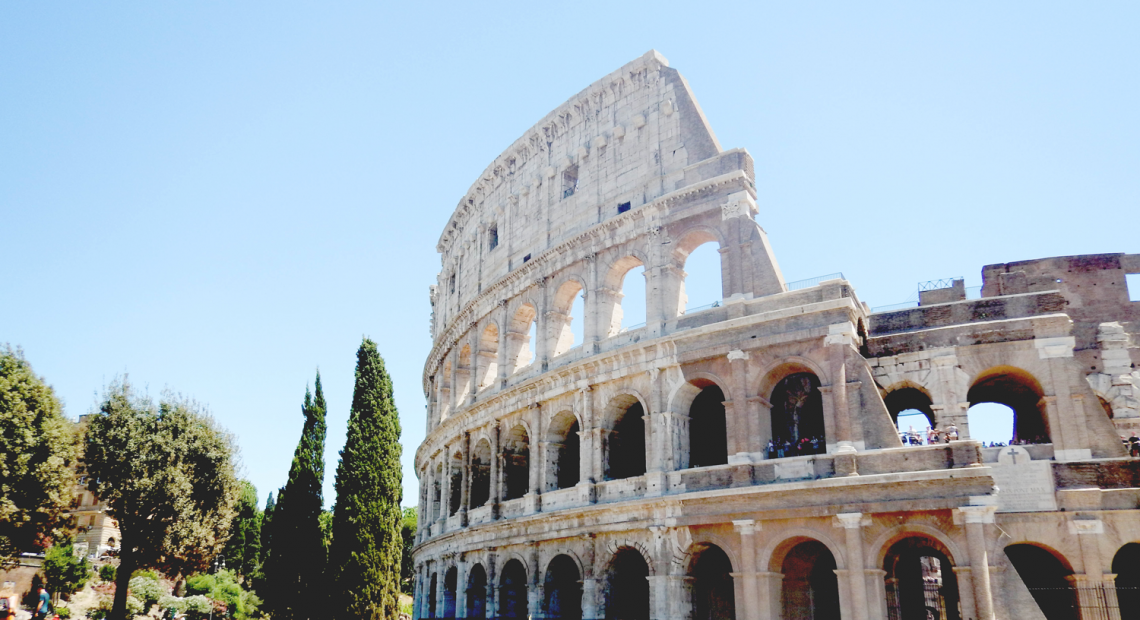 Civitavecchia (chi-vi-ta-veck-ee-a) will be your stop to get to Rome. With Rome being so far inland, you will need to take a train there. This will be a full day, so plan your time wisely. Transportation there and back will take a lot of time, and there is a ton to see in Rome so be careful how you plan your day. This Rome cruise port guide will help you get there and back safely and stress free.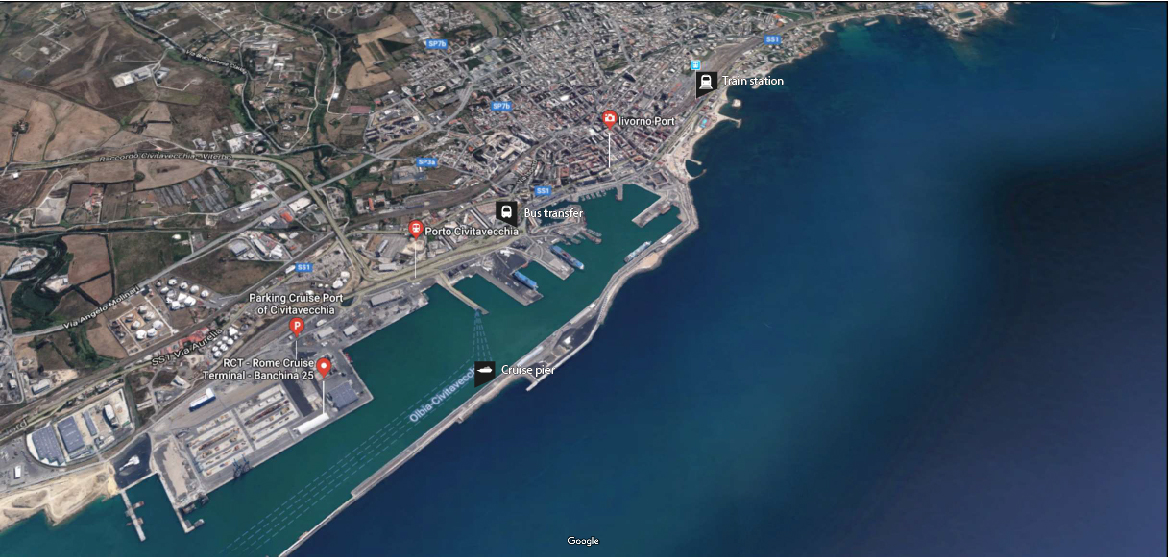 Getting from the Civitavecchia port to the train station
Getting off of your ship you will be offered a free shuttle to the train station. However, be aware that it does not take you directly there. It will take you to another stop outside of the port entrance (Largo Della Pace) where you will have to take a bus or taxi to the port. (Lame right?) It shouldn't be much though, maybe 2 euros.
If you just want to walk there though, like us, you absolutely can. We even had a small stream of people following us since we had done this before. The pier is very long, if your ship is at the far end, the majority of your walk will be just to get to the entrance of the port. So you may want to consider the shuttle then walking. Once out of the port, walk along the water on the Promenade until you see a sign for Hertz, it will be a little bit beyond that.
Walking times
| | |
| --- | --- |
| Ship to port entrance | 10-20 minutes |
| Port entrance to station | 10 minutes |
| Largo Della Pace to station | 20 minutes |
Civitavecchia train station
There is a tourist entrance which is useful. If you have beaten the bus, you can be the first to get your tickets. At the desk they will give you round trip tickets to Rome, where you can return at any time. They will circle the last times you will want to take to be back for your ship on time. A round trip ticket is 10 euros per person and they may ask if you want a map for another euro or 2.
ALWAYS be sure to validate your ticket before getting on the train. To do this, find one of the green Trenitalia kiosks on the platform. Insert the bottom of your ticket into the slot, slide left, and remove when you have heard the punch.
Look for your platform and wait. Train can be delayed. The expected time to Rome is 45 minutes but often with delays it can be an hour and a half. Plan ahead for that. I am including all stops so you can gauge when your stop is coming up.
Arriving in Rome
Depending what you want to do in Rome, you may want to take a different stop. The Vatican has enormous lines and can take a long time to get through, so if you plan to get there as early as possible, take the San Pietro stop. It is right on the doorstep!
For the Coliseum, take the Roma Ostiense stop. From there, look for the Metro signs. It is a bit of a walk but they are connected with tunnels. Once you get your metro ticket, go to Colosseo, only 2 stops away. When you exit that station, you can't miss the Coliseum!
For access to many other amazing sights, like the Trevi fountain, Spanish steps, or Pantheon, take the final stop Roma Termini. It is the largest station and gives you access to the other main metro line. You can get back on from any of those stations when you return later in the afternoon. Remember, stay safe and stay hydrated.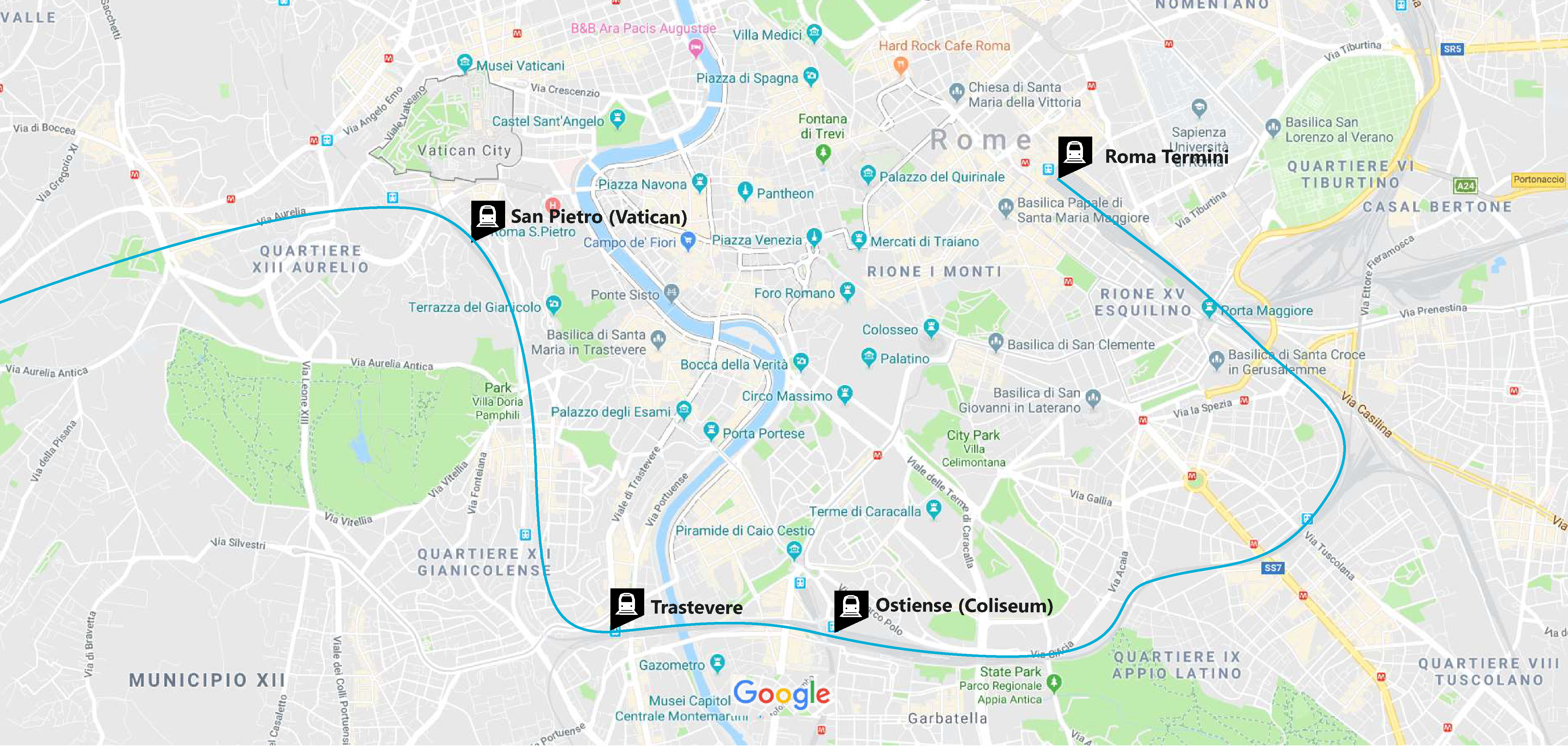 Train times
Travel times from Civitavecchia:
| | |
| --- | --- |
| San Pietro (Vatican) | 40 minutes |
| Trastevere | 1 hour 5 minutes |
| Roma Ostiense (Coliseum) | 1 hour 13 minutes |
| Roma Termini (Trevi Fountain, Spanish Steps, Pantheon) | 1 hour 30 min |
*Times vary due to delays and different trains having different stops. Always plan ample amount of time around traveling.